Game Control Mixer GCM100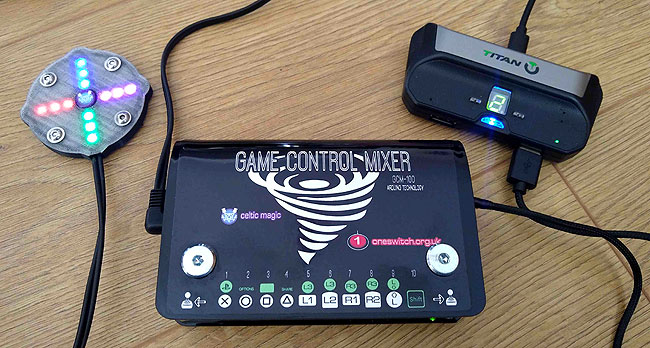 £420 GCM100 (+ p&p)
+£115 GCM100P (sip-puff system)
+Accessories

The GCM100 is an advanced accessible gaming interface that works on Windows PC, Xbox One, PS4, Nintendo Switch and more. Add accessories to build your own custom set-up.

The system can be tailored to suit a very wide range of needs. For those with very limited strength this system offers unparalleled powers.

For those unable to operate the many controls of a modern gamepad, 1 joystick and 1 'SHIFT' switch is enough to reach them all.

For the adventurous it faciliates building a unique Frankenstein's monster of a controller like no other.
Please get in touch for more information, customisation queries, and purchasing details.
SHIFT (Switch 10 or SIP): Used to change up to 4 joysticks to act in any of 24 modes. Doubles the function of attached switches. Tapped gives access to even more controls.

LED Compass: This colourful Heads Up Display helps players to monitor all the active joystick modes. It also assists sip-puff and latched SHIFT use.


BEHAVIOUR: Titan 'slots' allow the entire system to behave in up to 9 different ways, including a PC mouse mode and various console joystick modes. These can be customised upon request.


GAMEPAD: Can be added as part of a mix for a single player or for "co-pilot" use by a helper. This includes lightweight Xbox and Playstation controllers.


SWITCHES, JOYSTICKS and SIP-PUFF: Use with accessibility standard switches and sensors. Various joystick options from very sensitive to heavy duty. Sip-Puff options with a variety of mounts.


WINDOWS PC CONNECTION: Attach a computer to use PC software such as Voice Attack on games consoles as part of your mix. Speech Profiles here.
---
Switches
Sip-Puff
GCM100 Joysticks
Mounts
Games
Windows PC Software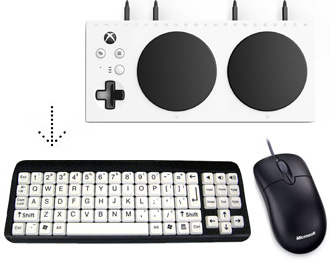 GCM100 Rest of the World